Trüpower Motorsports German/Canadian Concept & Design
Trüpower Motorsports was founded by 2 Canadians, Kory and Jeff with hope of providing high quality performance auto parts to the Canadian and international markets. Kory is a 3rd generation German Canadian with a long history of working in the automotive industry (design, fabrication and installation). Our philosophy is simple; make high quality performance parts while providing the best customer service possible without compromising honesty,  integrity or common sense.
Everyone has heard the saying, "You get what you pay for." Well, Trüpower Motorsports intercooler charge pipes, boost pipes and cold air intake systems are no exception to that rule. However, vehicle manufacturers mass produce parts to reduce production costs and lead times. Why else would they use restrictive, plastic pipes that are prone to fail and choke your engine? Trüpower intercooler piping and cold air intake systems allow your turbo charged engine to breathe the way it was meant to breathe. Trüpower charge pipes and boost pipes have smooth bends which ensure smooth air flow. Most OEM pipes use accordion bends which restrict air flow and cause air turbulence or turbo lag. Factory charge pipes are thinner in diameter which also restricts air flow. Trüpower intercooler hot side charge pipes and cold side charge pipes use 2-3" piping to ensure increased air flow from the turbo charger to the intercooler and from the intercooler to the intake. Smooth, unrestricted air flow will improve engine performance, improve engine and fuel efficiency, increase throttle response while maximizing power output of your turbo charged engine. Trüpower charge pipes and boost pipes are throttle body matched for perfect fitment and will work with stock and aftermarket intercoolers.
With over 20 years experience in the automotive industry, we have perfected the art of precision aluminum welding, mandrel pipe bending and billet CNC machining. Because of our extensive knowledge and experience, Trüpower offers some of the best performance products on the market. We use only the best T6061 aluminum which is lightweight, strong and is highly resistant to corrosion. It's common for stock charge pipes to grenade, melt or crack at the throttle body under increased boost pressure and even at stock boost pressure because they are not resistant to corrosion. Pipes can get coated with oil which degrades the plastic and when combined with high engine bay temperatures, will become brittle and break overtime.
Silicone couplers or "boots" can degrade just like the plastic factory charge pipes. Trüpower 4 ply silicone couplers and stainless steel clamps will ensure the best fitment possible. Trüpower boots have a higher rated PSI so you can throw as much boost at them as you want without a blowout.
Heat is the enemy of any engine. Cold air is denser with higher oxygen content. When colder air enters the engine, power and torque will increase. Factory OEM air intake systems use restrictive piping and allow hot engine bay air to be sucked into the engine. Trüpower cold air intake systems will deliver colder, denser, oxygen rich air to your turbo charged engine to ensure horsepower and torque gains. Trüpower air filters do not require oil to filter contaminants from the air.
Long story short, for noticeable horsepower gains, increased torque to the wheels, increased throttle response, faster acceleration, faster turbo spooling and decreased turbo lag, install Trüpower aftermarket performance parts and avoid having to get a tow home when your charge pipe or boost pipe breaks apart. Besides, our performance parts just look better than stock parts.
Trüpower Performance Coilover Suspension systems offer superior driving comfort, handling, durability and performance both on the street and track without the harshness of most aftermarket coilovers. We build our suspension to last without compromise. Our robust design ensures optimal control on the street or track, with 30-click precision damper adjustment to dial in the perfect ride. Trüpower monotube shocks dissipate heat more effectively and allow finer damping adjustment. Pillowball upper mounts have optional camber adjustability so your alignment can be tailored for personal or performance preference. Height adjustment (40-100 mm ride height drop) is independent of spring compression so comfort is not compromised when lowering your ride. We use only Motul high performance hydraulic fluid designed specifically for shock absorbers and racing conditions and Koyo Bearings from Japan (the world's top manufacturer of high quality, performance bearings). If you're looking to improve the quality of your ride on the street or track then Trüpower Coilover Suspension systems are for you. Besides, they look better than factory suspension.
Trüpower Motorsports Products are sold around the world!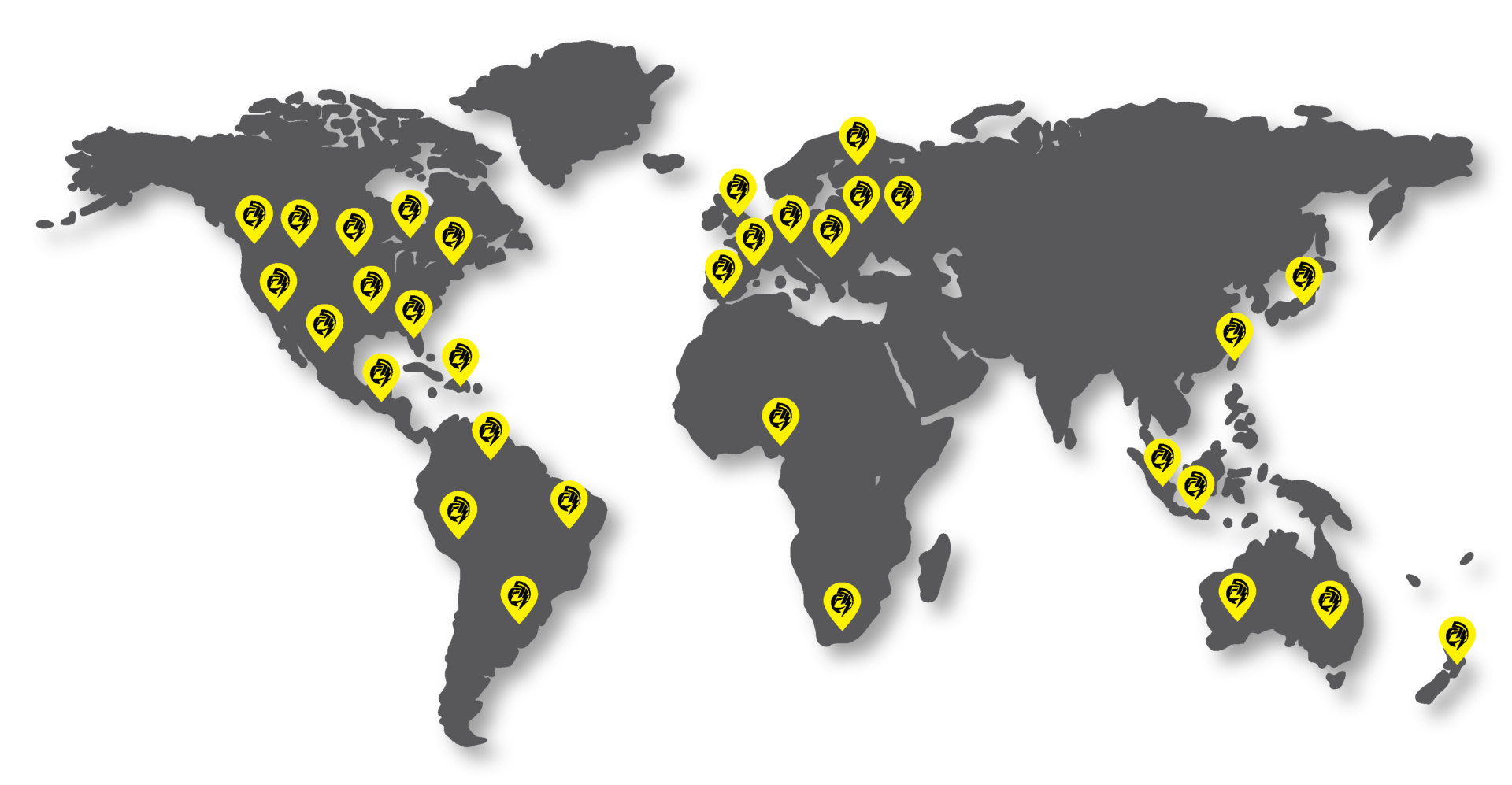 About TPMS
February 4, 2014